Both Man Utd  and  Man City  Stars In Barcelona's Radar 

Both Man Utd  and  Man City  Stars In Barcelona's Radar
Barcelona could take to the winter transfer window to strengthen their attack, with Raheem Sterling and Edinson Cavani having been reportedly placed on the club's radar.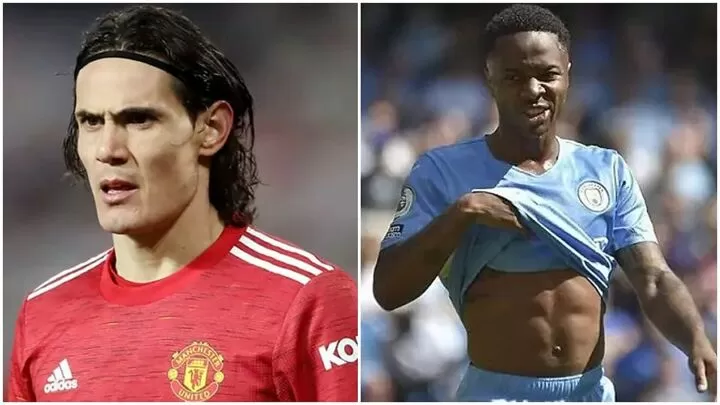 Injuries to starting forwards have seen the Blaugrana struggle in the final third this season, with none of Sergio Aguero, Ousmane Dembele or Ansu Fati having managed to stay fit in this first stretch of the campaign.
Hence, according to the British media, Barcelona could try to bring reinforcements in the winter transfer window, with Cavani and Sterling the two targets that could be brought in on loan.
Sterling has lost prominence at Manchester City
Following the arrival of Jack Grealish from Aston Villa last summer, Sterling has struggled to establish himself in the starting line-up. The England international has started in just three Premier League duels and one Champions League match so far this season.
Sterling has been on the pitch for a total of 700 minutes across 15 games, in which he scored twice and produced a couple of assists.
"If there was an opportunity to go somewhere else, I'd be open to it at this moment in time," Sterling said in an interview at the FT's Business of Sport US Summit in New York back in October.
Cavani is competing for a spot with Ronaldo
Although Cavani probably was already aware that he wouldn't be given a starting role at Manchester United this season, after Cristiano Ronaldo's return, the Uruguay international has started in just two games for the Red Devils.
Cavani missed a few games through injuries too, but upon his return to action he had to compete for a spot in attack with the Portuguese star, who has scored nine times in 13 games.
In his bid to bounce back from criticism and get back to winning ways after a slow start to the season, Ole Gunnar Solskjaer shifted from a 4-2-3-1 formation to a 3-5-2 system against Tottenham and placed Cavani in attack alongside Ronaldo.
The Uruguay international netted his first goal this season against Spurs, but he was benched in the following game against Atalanta and was sidelined through injury in the Manchester derby.
Struggling to get playing time at United, Cavani could seek to try his luck elsewhere and he would be a good fit at a Barcelona side who are in need of players that stand out for their finishing touch in front of goal.